Amazon Music chose ten podcasts to be featured in their Inspiring Indies playlist in the Society and Culture category, and Playful Humans is #1!
Check out the complete playlist here and explore some other inspiring independent podcasts that are making a difference in lives around the world: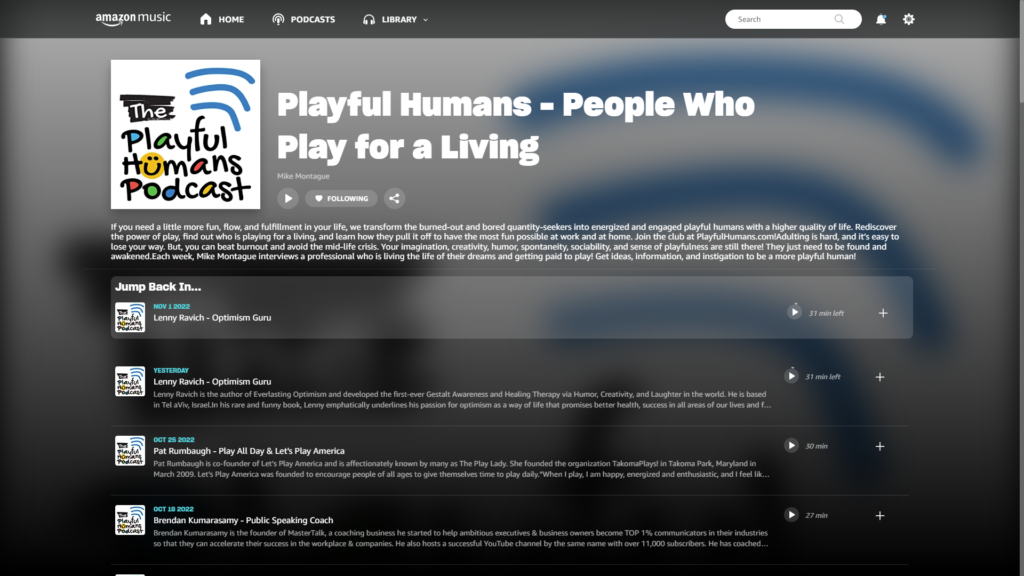 The featured link will be available for the next two weeks… But you can always find Playful Humans on Amazon, Spotify, iTunes, Google Podcasts, and many more by clicking here!
The Playful Humans Podcast features people that play for a living to help other adults rediscover the power of play.
If you need a little more fun, flow, and fulfillment in your life, we transform the burned-out and bored into energized and engaged Playful Humans. Learn how to have the most fun possible at work and at home.
Adulting is hard, and it's easy to lose your way. But, you can beat burnout, quiet quitting, The Great Resignation, and avoid a mid-life crisis. Your imagination, creativity, humor, spontaneity, sociability, and sense of playfulness are still there! They just need to be found and awakened. Each week, Mike Montague interviews a professional who is living the life of their dreams and getting paid to play! Get ideas, information, and instigation to be a more playful human!
You can also view the full podcast or special clips on our Playful Humans YouTube Channel.